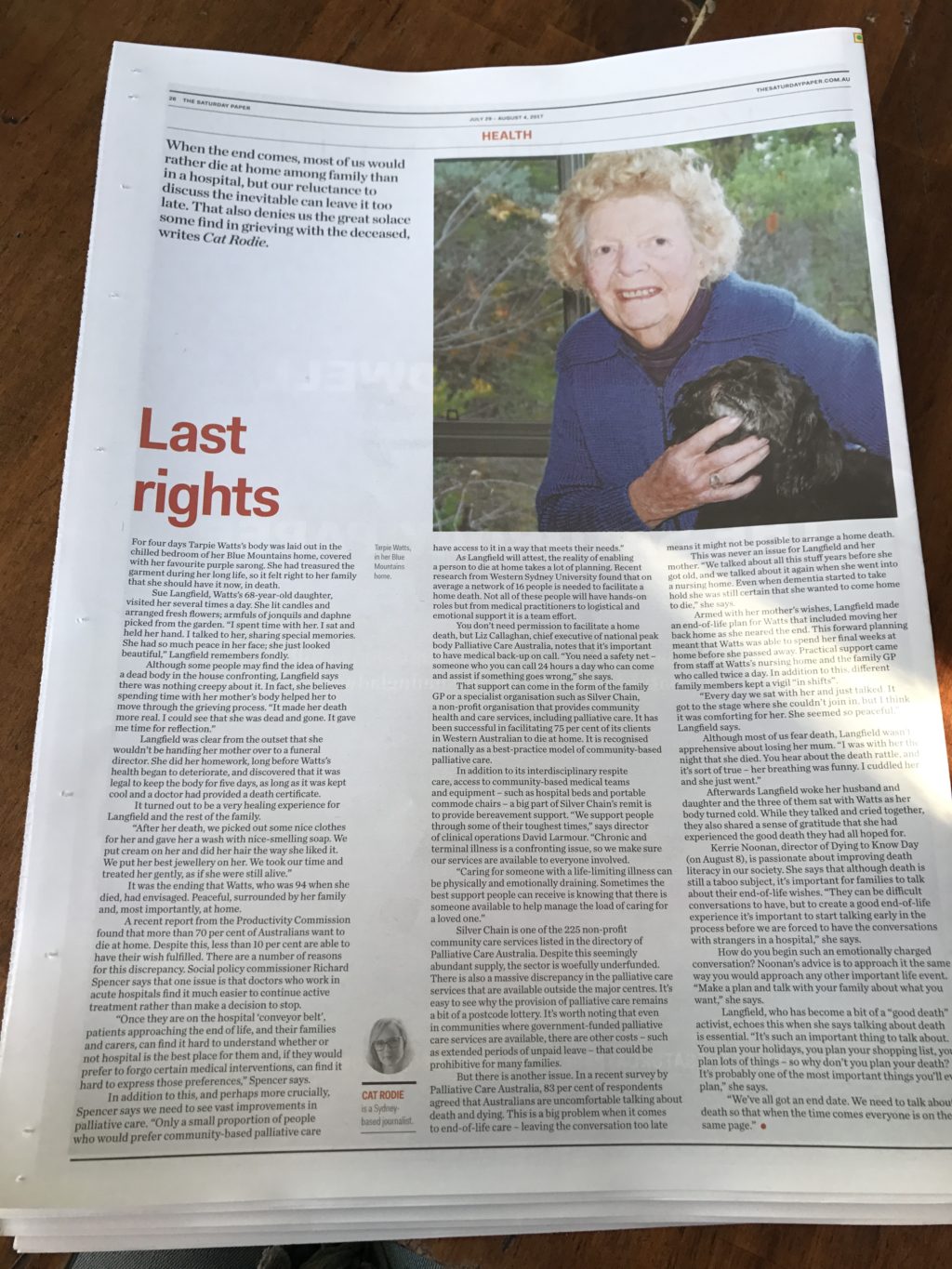 Behind the story: Writing Last Rights for The Saturday Paper
Behind the story: Writing Last Rights for The Saturday Paper
---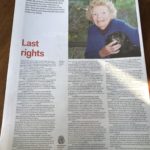 I've been interested in the idea of death literacy since I stumbled on a Facebook post about Death Midwifery in early 2016. At the time I was contacting in-house at the Australian Women's Weekly and after getting the go-ahead from my editor I interviewed several experts in the 'business' of death including Kerrie Noonan from the Groundswell Institute/Dying to Know Day.
Kerrie was fascinating and inspiring – she made me think a lot more about end of life plans and why, as a society we're not 'doing' death as well as we could. Kerrie put me in touch with Sue Langfeild who was in the process of arranging a home death for her mother, Tarpie Watts.
Due to shifting priorities at The Weekly, I was only able to write one piece on the subject of end of life plans, but I did stay in touch with Kerrie and Sue. When I returned to full-time freelancing in August 2016 death literacy was on my list of topics to tackle.
Of course, timing is everything. I pitched different angles to different publications and didn't really get very far. I wrote a piece about modern funerals for Marie Claire (to be published sometime this year) but couldn't get a 'yes' for a piece on dying at home. But when a report from Australia's productivity commission made headlines I knew I had my hook.
The report, which as released in June 2017, found that the majority of Australians say that they want to die at home but less than 10 per cent actually do. I already had a powerful case study – Sue had told me about her mothers death and the story emphasised that dying at home could be a beautiful and healing experience.
Knowing I already had the bones of the story I pitched it to The Saturday Paper and got my commission.
Compared with other features I have written, this story came together fairly easily. I was already familiar with the subject and had some good contacts to kick off with. I spent more time talking to Sue, it was really important to me that I did justice to her incredible story.
The biggest challenge writing this story was deciding what to leave out. The issues around why more people don't die at home are fairly complicated, but with a word count of 1400 I had to be as concise as possible. My aim in writing the story was to paint a vivid picture of a home death and I feel that I achieved that.
What's next? Well there are lots of other angles around the topic of death literacy to explore, so I will be looking for new opportunities to shine a light onto what people think of as a dark topic.